Add your review
Review Temperature Monitoring
Temperature Monitoring
€251,26 *
SRP
(€299,00 Incl. tax)
• Temperature detector: simple & reliable without battery charger.
• For refrigerators, freezers, medical practices, pharmacies
• Real-time monitoring: automatic recording of min and max values,
• Commissioning in 1 min., no technical knowledge requir
10 - 14 work days
Buy 3 for

€243,72

each and save

3%

Buy 5 for

€238,70

each and save

5%

Buy 10 for

€231,16

each and save

8%
Scope of delivery:
1 x temperature monitor / temperature alarm - COMOTIX® Temperature 
Free app control with the COMOTIX® app or via website
including an integrated embedded SIM card that works with all cellular networks worldwide and always uses the best available network.
including rechargeable special battery. No need to buy batteries.
without charger. Note: It is not absolutely necessary to have 1 charger per detector if you have several detectors in operation.
Including € 5 starting credit.
Daily costs € 0.12 flat rate (except SMS):

covers operation of the integrated SIM card
Free notifications to any number of users by push message (Comotix® app), by email or by Telegram instant message (such as Whatsapp).

SMS notifications: € 0.09 / SMS. However, these are usually not required because several free news channels are available.
dimensions: 125 x 82 x 75 mm
Monitorable temperature range
Whole device (e.g. in refrigerator or freezer): -30°C to +60°C
If only the probe is exposed to the measuring temperature: -55°C to +125°C  
Accuracy: in the range -10°C to +85°C: +/- 0.5°C
Settings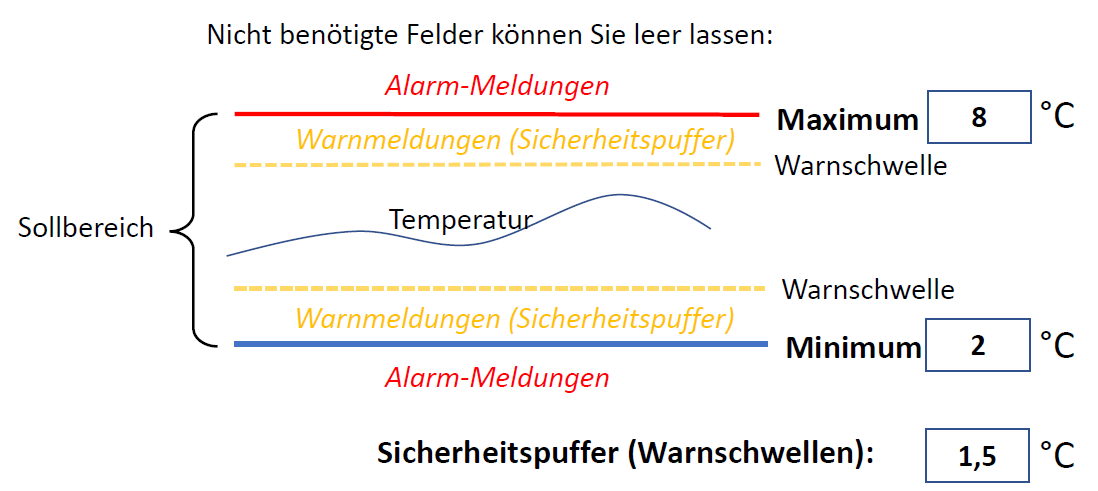 Here you can find the short introduction as PDF. Brief introduction COMOTIX® Temperature.
User manual/Additional COMOTIX® Temperature (in German only)
3 reviews
5 stars based on 3 reviews
20 Oct 2021
A.S., Elisabeth-Apotheke
Wir nutzen die Temperaturüberwachung in unserem Kühlschrank und sind glücklich die Sicherheit zu haben, dass wir bei kritischen Temperaturabweichungen sofort alarmiert werden. Das System ist einfach und funktioniert ausgezeichnet.
20 Oct 2021
Dr. med. Y. W.-R. , Hausarztpraxis Dr. Wang-Rosenke
Wir sind wirklich glücklich über die Anschaffung dieser Temperaturüberwachung und können das System nur weiterempfehlen! So haben wir die aktuelle Temperatur in unserem Praxiskühlschrank jederzeit im Blick!
20 Oct 2021
B. M., Kopphaff sarls
Als Nutztierbetrieb aus Luxemburg vermarkten wir unsere landwirtschaftlichen Produkte, u.a. in unseren gekühlten Verkaufsautomaten am eigenen Hof. Für uns ist eine durchgehende und richtige Kühlung in den Automaten sehr wichtig. Daher nutzen wir hier die Temperaturüberwachung von COMOTIX und sind so immer auf der sicheren Seite! Ein tolles Gerät!